Thursday Afternoon Update
Bermuda targeted by Gonzalo
The Weather Situation:
Our twitter and facebook updates from earlier this morning indicated that we believed a little more strengthening would be possible before Gonzalo weakened. This has indeed occurred as the hurricane was officially "upped' to 145 mph late this morning. This will be close to the top strength as it accelerates toward Bermuda tonight. Dangerous, large swell will arrive in Bermuda early Friday morning and continue all day.
Current Weather:
As of 2 PM EDT / 2 PM AST Hurricane Gonzalo was centered at 25.3 N / 68.7 W or 540 miles SSW of Bermuda. It was moving north at about 10 mph. Top sustained winds are estimated at 145 mph. Pressure was estimated at 942 mb.
Tropical Weather Forecast:
Gonzalo will be very close to Bermuda Friday. Some effects will be seen starting tonight. It will rapidly accelerate and be near Newfoundland Saturday night.
Interests in Bermuda and Newfoundland should follow Gonzalo closely. All preparations should be completed by dusk tonight in Bermuda.
Tropicast: Atlantic Visible floater satellite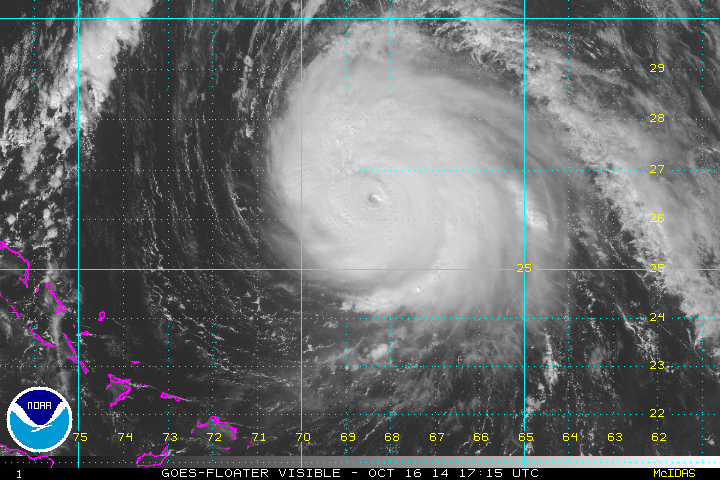 Tropicast: Atlantic Rainbow floater satellite