Sunday Morning Update
Wind, rain increasing on Berumda
Thankfully Igor has continued its slow, methodical weakening overnight. Top sustained winds are now 85 mph. Bermuda still will have Igor move very close this evening. Winds on Bermuda now are about 30 mph gusting to 50 mph. Bermuda will have a prolonged period of wind and heavy rain since Igor is a large hurricane. Swell will be one of the main problems with seas now over 20 feet hundreds of miles away from the center of Igor. The impacts at Bermuda will be very rough seas, heavy rain, strong winds in the cat 1 range (assuming no significant change in strength occurs today).
It appears that the media well over exaggerated Igor. Last evening terms like "monster hurricane" and "worst ever" were used to describe the hurricane. It is a disservice to meteorologists when news agencies use terms like this to gets ratings. Many times meteorologists who are not hurricane experts will be used to report on "stories" like this to no fault of their own..... Sorry about the soapbox. I just feel it is important to get the right facts to the public when a hurricane is threatening
As of 8 am edt / ast hurricane Igor was centered near 29.6° N / 65.3° W or about 190 miles south of Bermuda. Top sustained winds are estimated at 85 mph (NHC 85 mph 8 am ast advisory). Movement is north at 13 mph. Pressure at 949 mb by the recon.
Forecasts call for Igor to be in the vicinity of Bermuda by around 10 - 11 pm this evening. It looks like Igor will be a cat 1 hurricane near Bermuda.
Tropicast: Visible Floater Satellite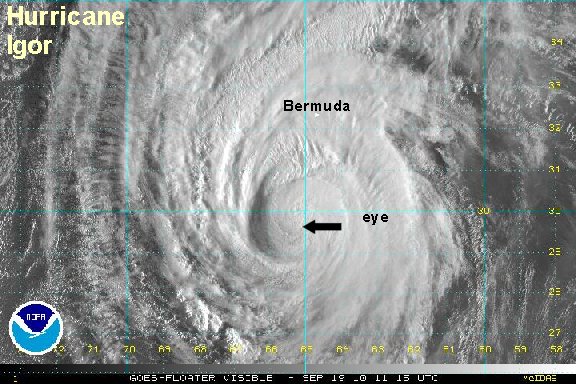 Tropicast 2: Bermuda Radar