Thursday Morning Update
Low has formed east of the Mid-Atlantic coast
The Atlantic hurricane season threatens to start early again...
A new low has formed east of Virginia Beach by about 250 miles. This low, even if it develops some, will not be a threat to the northeastern U.S.. It is possible that this system could be classified as a tropical depression. The system has formed near the Gulf Stream where water temperatures are considerably water than near shore. Upper air winds will move this system to the east northeast away from land.
Tropicast: Mid-Atlantic Visible Satellite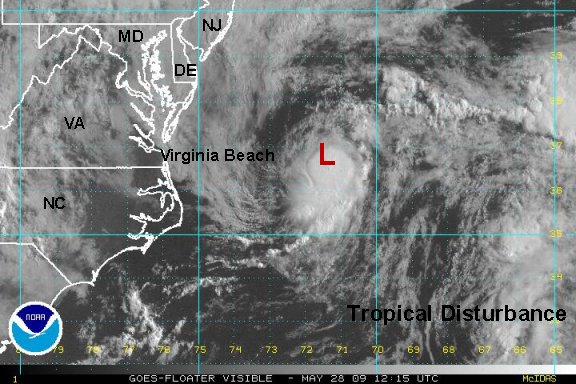 Visible satellite shows deep convection associated with the disturbance. It appeared that the disturbance was to the north of the convection earlier this morning. Apparently some of the west southwest wind shear has relaxed and the convection has built more over the center of circulation.