Tuesday Midday Update
Arthur classified east of Florida
Sustained winds from Grand Bahama Island of 38 mph earlier this morning convinced the hurricane center to upgrade from tropical depression strength to tropical storm (sustained winds of 39 mph).
Arthur continues to fight northerly wind shear, although deep convection is now expanding south of the center. Warm sea surface temperatures should aid in development. Upper air winds will strengthen by later Thursday and Friday which will not only accelerate Arthur, but increase wind shear again. Strengthening to a hurricane will have to occur in the window of opportunity during the next two days when upper air winds will be lighter.
As of 11 am edt Arthur was centered at 27.6 N / 79.3 W or about 95 southeast of Cape Canaveral, FL. Officially it was moving nw at about 2 mph. Top sustained winds estimated at 40 mph ( 40 mph NHC advisory). Pressure was estimated at 1007 mb. Latest radar imagery show more of a westerly jog closer to the east central Florida coast.
Forecast:
Aurthur is expected to slowly strengthen the next few days. It is drifting nw which could take it close the the northeast Florida coast by late tonight / Wednesday. After Wednesday upper air winds should start accelerating Arthur more northward then nne. This will take it close to the Outer Banks Friday morning then offshore of the Mid-Atlantic and New England coast late Friday and early Saturday.
Tropicast: Atlantic visible floater satellite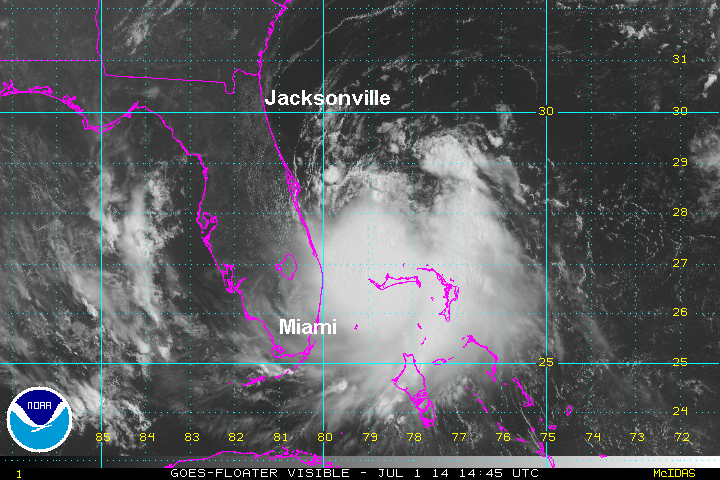 Tropicast: Florida Radar