Wednesday Night Update
Andrea classified over the eastern Gulf
As expected Andrea was classified this evening. Andrea probably isn't quite a tropical storm, but was likely named because of the impacts to Florida. This will include a storm surge of 2-4 feet from near Tampa to Apalachee Bay. Heavy rainfall over 5 inches is possible over the Florida peninsula.
I don't believe that Andrea is quite up to tropical storm strength. This is due to the fact that the strongest winds recently are 42 knots in a gust at a buoy. A tropical storm of 40 mph should have gusts near 50 mph. Anyhow, I would have made the same move as NHC and named Andrea because of the impacts.
As of 11 pm edt Andrea was centered at 26.0 N / 86.3 W or about 270 wsw of Tampa, Florida. It was moving n at about 6 mph. Top sustained winds estimated at 35 mph ( 40 mph NHC advisory). Pressure was estimated at 1002 mb.
Forecast models take Andrea into the Florida coast during the day Thursday and inland up the eastern seaboard the next few days. Heavy rainfall will sweep up the eastern seaboard late Thursday through Friday.
Don't pay too much attention to the landfall time. This is a minimal tropical storm and the main effects will be well ahead of the low crossing land.
Tropicast: Visible Floater Satellite (Wed Afternoon)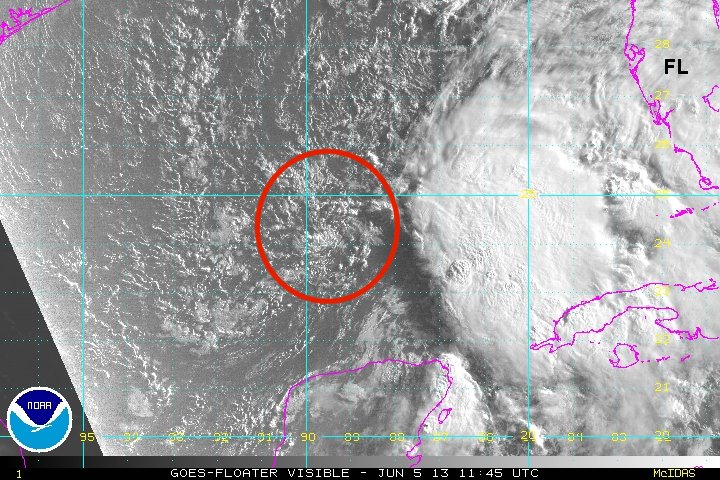 Tropicast: I.R. Floater Satellite (Wed Night)