Hurricane Matthew Facts
Hurricane Matthew became the first category 5 hurricane to form in the Atlantic Ocean since Hurricane Felix in 2007. It will be remembered for its intensity at a very low latitude as well has bringing great loss of life to Haiti from wind damage and flooding. It also brought heavy damage to the U.S. east coast from the east-central coast of Florida northward to eastern North Carolina.


Matthew was classified as a tropical storm in the Windward Islands, 35 miles southeast of St. Lucia on September 28th. It continued just south of west and began to rapidly strengthen. It reached at top wind speed of 160 mph late on the evening of the 30th. At 13.3 north it became the lowest latitude category 5 hurricane in the Atlantic on record. Matthew began to turn north after nearly stalling north of Columbia. By 7am it had made landfall at Les Anglais, Haiti with sustained winds of 145 mph. High winds and heavy rainfall resulted in more than 1000 fatalities.
Hurricane Matthew satellite picture over Haiti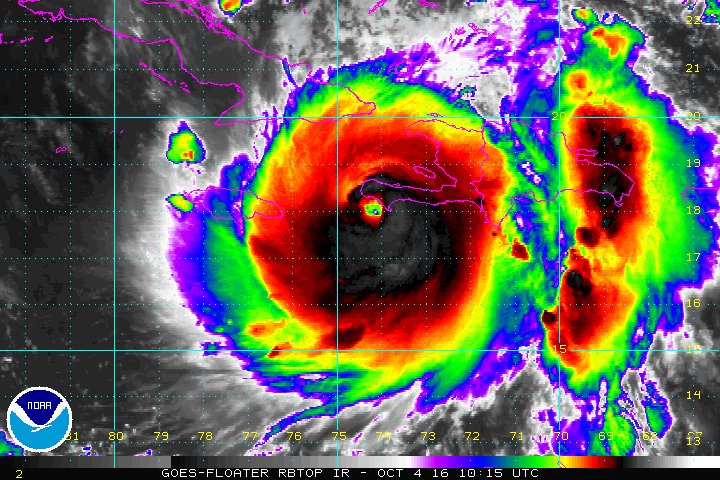 Images / data courtesty of the National Hurricane Center / NOAA / NASA



Matthew made a second landfall later in the evening just after 8pm EDT as is passed through the Windward Passage and into the extreme eastern tip of Cuba. Winds were estimated at 140 mph during landfall. The next two days the hurricane moved northwest through the Bahamas on October 5th and 6th. It passed west of Long Island, just west of Nassau, and made a third landfall on Grand Bahama Island near Freeport around 7pm on the 6th. Winds gusted to near 100 mph. This was the first time on record that a major hurricane made landfall in Haiti, Cuba and The Bahamas.





Matthew continued northwest toward the southeast Florida coast. It turned slightly more northward and paralled the coast only 20-30 miles offshore. Matthew brought a storm surge of 3-5 feet to the Space coast and First Coast of Florida with a maximum surge of 6.4 feet at Fernandina Beach near Jacksonville. Severe coastal flooding occured in this area with some sections of roadway being washed away.





Hurricane Matthew radar image east of Florida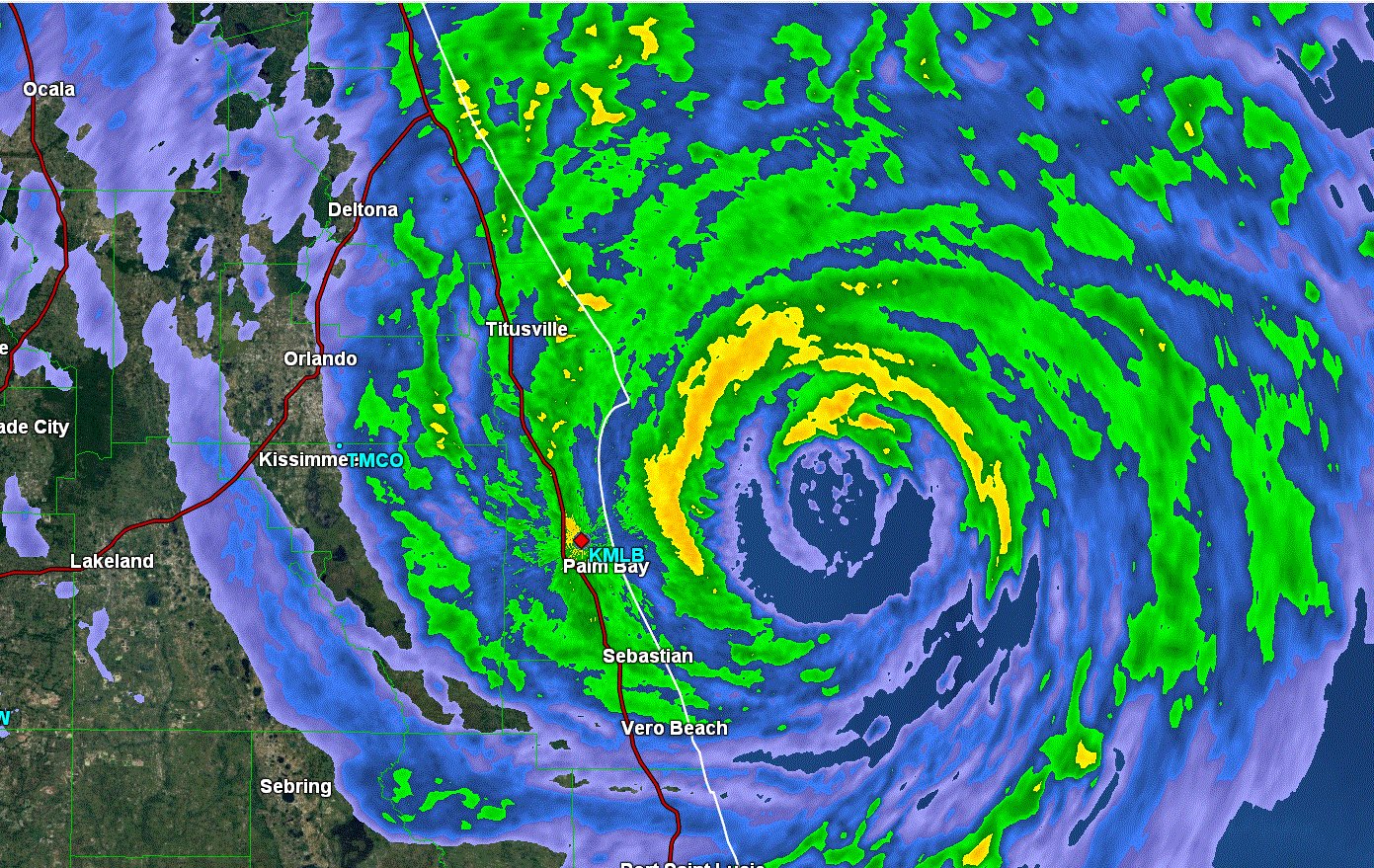 Matthew brought the heaviest rainfall to the Savannah, Georgia area with a total of 17.5 inches. Wind gusts spproaching 100 mph were also clocked on Tybee Island. It continued weakening and made landfall near McClanville,SC on the8th with top sustained winds of near 75 mph. Historical flooding occurred from northeastern South Carolina into much of eastern North Carolina. Some rivers achieved record highs especially in the Lumberton and Fayetteville region. Parts of I 95 were closed from the severe flooding. Matthew became extratropical as it moved over North Carolina and out to sea.
Hurricane Matthew Facts Summary
Preliminary data, subject to updates
Lowest pressure: 934 millibars / 27.58 inches, near SW Haiti
Strongest winds: 160 mph, southern Caribbean north of Columbia
Pressure and sustained wind at landfall in Les Anglais, Haiti, 934 mb / 145 mph
Pressure and sustained wind at landfall in Juaco, Cuba, 949 mb / 140 mph
Pressure and sustained wind at landfall near Freeport, Bahamas, 939 mb / 140 mph
Pressure and sustained wind at landfall in McClellanville, SC, U.S., 967 mb / 75 mph
Strongest wind gust in Haiti: 107 mph Antoinie-Simon Airport (stopped reporting), Haiti
Strongest wind gust in The Bahamas: 144 mph, Exeuma
Strongest wind gust in Cuba: 155 mph(unconfirmed), Baracoa
Strongest wind gust in Florida: Cape Canaveral, 107 mph (elevated sensor)
Strongest wind gust in Florida: Daytona Beach, 91 mph
Strongest wind gust in Georgia: Tybee Island, 96 mph
Strongest wind gust in South Carolina: Hilton Head, 88 mph
Strongest wind gust in North Carolina: Nags Head, 91 mph
Strongest wind gust in Virginia: Oceana NAS, 75 mph
Maximum storm surge height Haiti: n/a
Maximum storm surge height Bahamas: n/a
Maximum storm surge height FL: 6.4 feet, Fernandina Beach
Maximum storm surge height GA: 7.8 feet, Fort Pulaski
Maximum storm surge height SC: 6.1 feet, Charleston
Maximum storm surge height NC: 4.1 feet, Wilmington
Maximum storm surge height VA: 4.1 feet, Norfolk
Maximum Rainfall: Savannah (Hunter AFB), GA - 17.49"
Maximum Rainfall: Near Fayetteville, NC - 15.65"
Maximum Rainfall: Beaufort (MCAS), SC - 14.04"
Maximum Rainfall: Chesapeake, VA - 12.84"
Maximum Rainfall: Orlando, FL - 8.89"
Fatalities: possibly over 1000 total Haiti (early estimate), 49 U.S.
U.S. Damage: $5-8 billion (early estimate)
Total Damage: $8-10+ billion (early estimate)
Do you want to find out more about Hurricane Matthew or other hurricanes? Check out our 2016 hurricane summaries.
Back to more hurricane articles.