Thursday Morning Update
Sean a little closer to Bermuda, slightly stronger
Synopsis:
Sean is again slightly better organized than yesterday. Deep convection has built around the center of circulation but has weakened some compared with a few hours ago. That is why I'm estimating a lower wind speed than the hurricane center. A primary feeder band is visible on the satellite imagery to the southeast of the low center. Upper air winds from the southwest will pick up soon shearing Sean. NHC officially makes Sean a hurricane later tonight. I'm thinking that Sean will remain a strong tropical storm.
Bermuda's winds have actually calmed a bit. Winds are now in the 20-25 mph range. NOAA still predicts seas near 20 feet with the low.
Currently:
At 7 am est / 6 am ast Sean was centered near 30.3 N / 70.9 W or 380 miles sw of Bermuda. Top sustained winds are estimated at 60 mph (NHC 65 mph last advisory). Movement: north at 8 mph. Pressure estimated at 991 mb.
Forecast:
Forecasts take Sean north, then northeastward over the next few days. It will be sheared by an approaching upper air trough and frontal system. Sean will remain nw of Bermuda as it becomes extratropical. It may briefly reach minimal hurricane strength during the next 12-24 hours.

It you have a facebook page, check the link below for mini-updates. If you find it helpful "like" the fb page. Thanks!

Tropicalweather.net fb page:
http://www.facebook.com/#!/pages/Tropicalweathernet/120578244647095
Tropicast: IR Satellite Thursday AM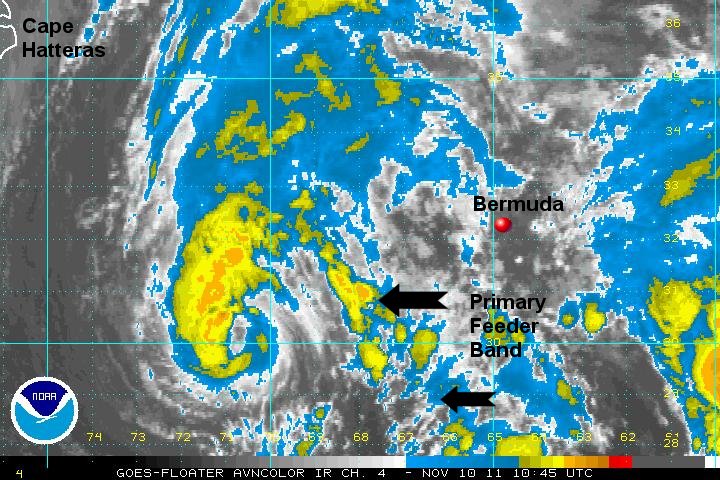 National Hurricane Center
Official NHC Advisory
http://www.nhc.noaa.gov/text/refresh/MIATCPAT4+shtml/100835.shtml?
Official NHC Track
http://www.nhc.noaa.gov/graphics_at4.shtml?5-daynl?large#contents
Satellite
Visible Satellite Imagery
http://www.ssd.noaa.gov/goes/flt/t1/flash-vis.html
I.R. Satellite Imagery
http://www.ssd.noaa.gov/goes/flt/t1/flash-avn.html
_________________
Rich Johnson
Tropicalweather.net


Certified Broadcast Meteorologist - Hurricane Expert