Wednesday Morning Update
Tropical depression Georgette over Gulf of California
Georgette has rejuvenated over the Gulf of California and is close to tropical storm strength. It is moving northward and will make another landfall today on the northwest coast of Mexico. Locally heavy rainfall of 2-5" can be expected in the path of Georgette which may cause flash flooding.
As of 6:00 am edt / 3:00 am pdt tropical depression Georgette was centered near 25.8°N / 110.7 °W or roughly about 135 miles south of Guaymas, Mexico. Movement is to the north northwest 14 mph. Top sustatined winds are estimated at 40 mph (35 mph - NHC 2 am pdt advisory)
Tropicast: Pacific I.R. Satellite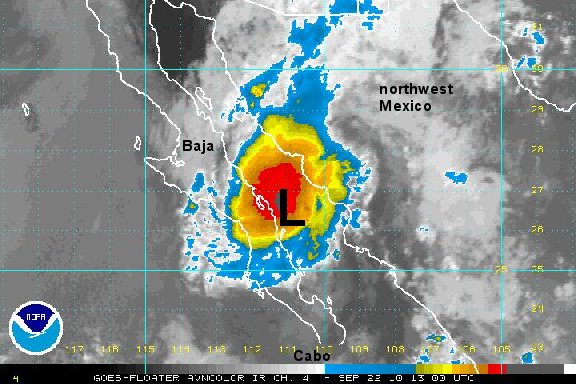 National Hurricane Center
Official NHC Advisory
http://www.nhc.noaa.gov/text/refresh/MIATCPEP2+shtml/220847.shtml?
Official NHC Track
http://www.nhc.noaa.gov/graphics_ep2.shtml?5-daynl?large#contents
Satellite
Visible Satellite Imagery
http://www.ssd.noaa.gov/goes/flt/t6/flash-vis.html
I.R. Satellite Imagery
http://www.ssd.noaa.gov/goes/flt/t6/flash-avn.html
_________________
Rich Johnson
Tropicalweather.net


Certified Broadcast Meteorologist - Hurricane Expert