Saturday Late Morning Update
"Tropical disturbance" continues to organize
The "tropical disturbance" will likely be classified as TD 3 or tropical storm Bill at 11 am edt.
Visible satellite imagery now clearly shows the surface center. Deep convection is now just starting to build around the center of circulation, as convection to the south continues.
It is centered near 11.6° N / 33.8° W or about 1855 miles east of the Leeward Islands. Movement is west at about 16 mph. We estimate top sustained winds of 40 mph (thus making this a minimal tropical storm). This system will likely ( should defintely be ) classified as td 3 / tropical storm Bill on the 11 am edt nhc advisory time.

We are watching this situation very closely. A lot of folks will want to know how strong and exactly when it will hit. It is about four days (next Wednesday) from being near the Leewards,
if
it continues on that forecast path. A lot can happen by then. Sit tight and wait a few more days to see if model trends continue or shift around..... The models have been jumping around a lot recently.
The models are still disagreeing, although with a farther east trend. One takes it well east of the Leewards, another now recurving just east of the U.S. coast after moving near or just northeast of the Leewards by around Wednesday. This a good trend! Hopefully the models will start aligning with the trend of recurving more.
We'll keep you updated with our latest model interpretations as they come in. We'll have an update on the models early this afternoon.
*** update - nhc went with td 3 at 11 am

This is not time to panic, but make sure that your hurricane preparedness plan is ready to go. Here are a few suggestions:
Hurricane Preparedness:
http://www.tropicalweather.net/plan.htm
Preseason Hurricane Prepareness:
http://www.tropicalweather.net/hurricane_preparedness.html
Other Hurricane Articles:
http://www.tropicalweather.net/hurricane_articles.htm
Tropicast: Atlantic Visible Floater Satellite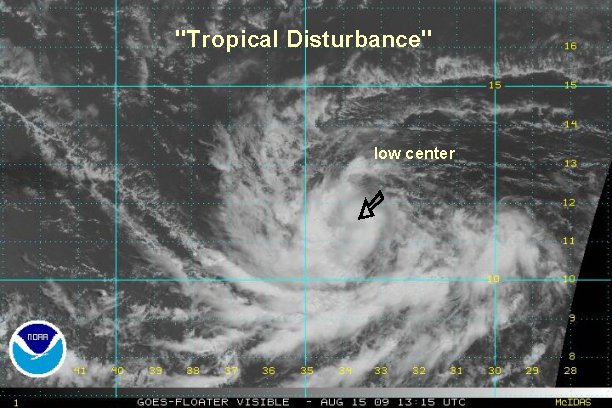 Official NHC Advisory
http://www.nhc.noaa.gov/text/refresh/MIATCPAT3+shtml/151434.shtml?
Official NHC Track
http://www.nhc.noaa.gov/graphics_at3.shtml?5-daynl?large#contents
Visible Satellite Imagery
http://www.ssd.noaa.gov/goes/flt/t2/loop-vis.html
I.R. Satellite Imagery
http://www.ssd.noaa.gov/goes/flt/t2/loop-avn.html
_________________
Rich Johnson
Tropicalweather.net


Certified Broadcast Meteorologist - Hurricane Expert