Wednesday Afternoon Update
Remnants of Polo moving west
As we mentioned earlier, The National Hurricane Center stopped writing advisories last night due to a Quickscat satellite pass indicating an open wave instead of a closed low. A newer Quickscat seems to indicate a weak low still which is consistent with the visible satellite imagery. Deep convection still is on the southeast side of the circulation. Top sustained winds are still probably near 30 mph in the convection.
The remnants of Polo are centered near 9.7 N / 122.4 W.
Polo is not a threat to land and this will be our last update, unless NHC reclassifies the tropical cyclone.
TropicalWeather.net's Tropical Pic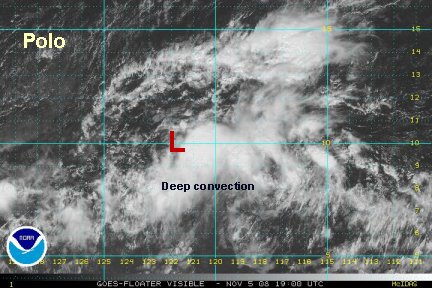 Official NHC Forecast Advisory
NHC no longer writing advisories
Official NHC Track / Watches and Warnings
NHC no longer writing advisories
Visible Satellite Loop:
http://www.ssd.noaa.gov/goes/flt/t6/loop-vis.html
I.R. Satellite Loop:
http://www.ssd.noaa.gov/goes/flt/t6/loop-avn.html
_________________
Rich Johnson
Tropicalweather.net


Certified Broadcast Meteorologist - Hurricane Expert