Monday Morning Update
Jova a major hurricane
Jova has gone through a strengthening phase overnight. The eyewall has expanded and the first heavy rainbands have made it over the coast. Additional outer rainbands will affect the coast today. Conditions will rapidly go downhill during the day Tuesday as Jova approaches the coast. The hurricane center's wind estimate of 120 mph looks reasonable.

Jova's effects will include storm surge near and south of the landfall position, heavy rain and damaging winds. Power outages and flash flooding will also occur. Preparedness actions to save lives and property should be completed today.
As of 7 am edt / 4 am pdt Jova was centered near 16.3 N / 107.1 W or about 255 miles sw of Manzanillo, Mexico. Movement is east at about 5 mph. Top sustained winds are estimated at 120 mph (NHC 120 mph earlier advisory). Pressure 960 mb.
Forecast:
Forecasts take Jova generally east today and nne Tuesday toward the coast of Mexico near Manzanillo during the evening as a major hurricane.

Residents and tourists near Manzanillo an adjacent communities should check traval plans and be prepared for a major hurricane.
Tropicast: Pacific IR Satellite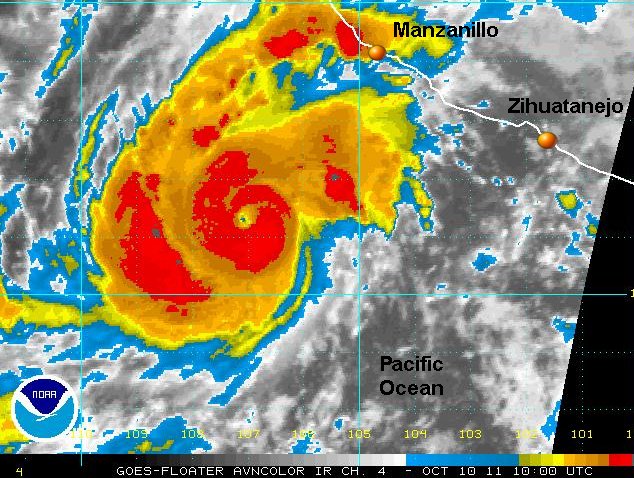 National Hurricane Center
Official NHC Advisory
http://www.nhc.noaa.gov/text/refresh/MIATCPEP5+shtml/100855.shtml?
Official NHC Track
http://www.nhc.noaa.gov/graphics_ep5.shtml?5-daynl?large#contents
Satellite
Visible Satellite Imagery
http://www.ssd.noaa.gov/goes/flt/t7/flash-vis.html
I.R. Satellite Imagery
http://www.ssd.noaa.gov/goes/flt/t7/flash-avn.html
_________________
Rich Johnson
Tropicalweather.net


Certified Broadcast Meteorologist - Hurricane Expert