Tuesday Morning Update
Tropical low bringing heavy rain to Florida
Synopsis:
The low pressure center is difficult to locate. It is west of the deep convection. Because of this, it will be difficult for any further strengthening. Despite this fact, heavy rainfall continues on the southwest coast of Florida. Doppler radar estimates that over 15" of rain has fallen near the western Keys. Key West reported 7" over the last 24 hours. More modest amounts of 1-3" has fallen over the western Everglades. Rainfall will spread northward over the peninsula later today and tonight.
Currently:
At 7 am edt / ast the tropical disturbance was centered near 24.0 N / 88.0 W or 440 about miles southwest of Tampa, Florida. Top sustained winds are estimated at 35 mph. Movement: ne 15 mph. Pressure estimated at 1004 mb.
Forecast:
Forecasts take the tropical disturbance into the west coast of Florida north of Tampa toinght.

It you have a facebook page, check the link below for mini-updates. If you find it helpful "like" the fb page. Thanks!

Tropicalweather.net fb page:
http://www.facebook.com/#!/pages/Tropicalweathernet/120578244647095
Tropicast: IR Satellite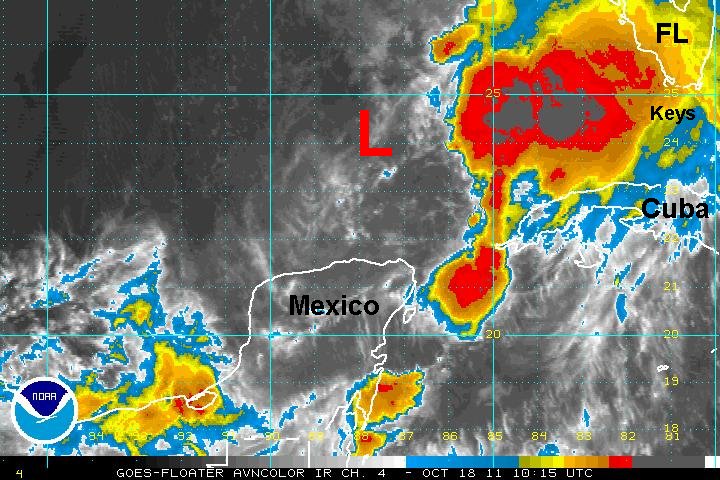 National Hurricane Center
Official NHC Advisory
none at this time
Official NHC Track
none at this time
Satellite
Visible Satellite Imagery
http://www.ssd.noaa.gov/goes/flt/t2/flash-vis.html
I.R. Satellite Imagery
http://www.ssd.noaa.gov/goes/flt/t2/flash-avn.html
_________________
Rich Johnson
Tropicalweather.net


Certified Broadcast Meteorologist - Hurricane Expert