Thursday Morning Update
Maria passing Bermuda to the west
Maria is accelerating to the northeast and will pass Bermuda to the west this morning. Winds will pick up to tropical storm force over the next few hours. Recent winds were in the vicinity of 30-35 mph. A large area of heavy rain is moving to the west of Bermuda, but rainbands with squalls will still pass over the island today.
NOAA reports that waves are over 20 feet with Maria. Maria is moving rapidly so the seas should calm down farily quickly as the storm passes Bermuda.
Maria is still fighting wind shear and will lose its tropical characteristics over the next 24 hours as it rapidly moves to the north Atlantic. Some effects may clip eastern Newfoundland tomorrow afternoon as Maria passes to the south of Canada.
At 8 am edt / ast Maria was centered at 30.9 N / 67.8 W or 200 miles wsw of Bermuda. Top sustained winds estimated at 60 mph (NHC 65 mph last advisory). Movement: nne 28 mph. Pressure estimated at 999 mb.
Forecast:
Maria is southwest of Bermuda this morning. Maria may clip Newfoundland as it starts to recurve across the north Atlantic on late Friday.

Interests in Bermuda and Newfoundland, Canada should follow the progress of Maria.

It you have a facebook page, check the link below for mini-updates. If you find it helpful "like" the fb page. Thanks!

Tropicalweather.net fb page:
http://www.facebook.com/#!/pages/Tropicalweathernet/120578244647095
Tropicast: Visible Satellite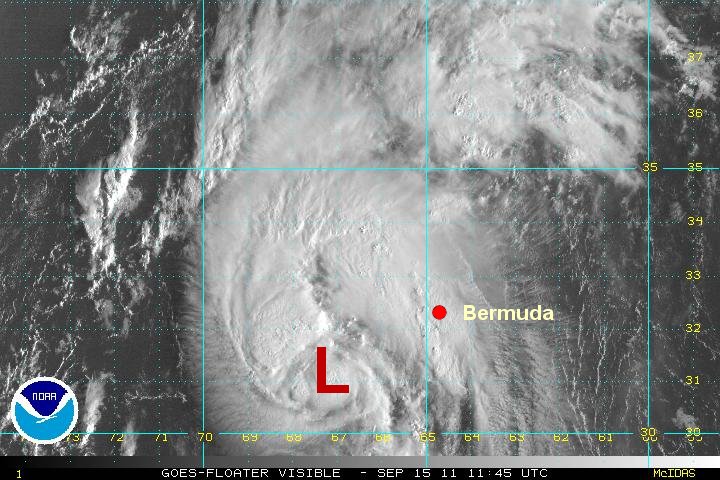 National Hurricane Center
Official NHC Advisory
http://www.nhc.noaa.gov/text/refresh/MIATCPAT4+shtml/151143.shtml?
Official NHC Track
http://www.nhc.noaa.gov/graphics_at4.shtml?5-daynl?large#contents
Satellite
Visible Satellite Imagery
http://www.ssd.noaa.gov/goes/flt/t3/flash-vis.html
I.R. Satellite Imagery
http://www.ssd.noaa.gov/goes/flt/t3/flash-avn.html
_________________
Rich Johnson
Tropicalweather.net


Certified Broadcast Meteorologist - Hurricane Expert