Thursday Evening Update
Unofficial tropical depression in western Caribbean
It appears that a new tropical depression has formed in the western Caribbean this afternoon. NHC did not classify as the hurricane hunter had mechanical problems and could not sample the 'disturbance" today. It still appears to me that there is enough convection and low level circulation to classify.
My estimate at 16 north was a little far north this morning based on IR satellite imagery. Visible satellite shows the low center a little farther south. This is very significant since the low may move inland much earlier into northern Honduras which would curtail any further strengthening. If the low center can stay just north of Honduras it still can become a tropical storm before moving into Belize. Heavy rain remains the may concern at this time.
As of 5pm edt the unofficial tropical depression was centered near 15.7 N / 81.0 W or roughly 225 miles from the northeastern coast of Honduras. It is moving just north of due west at about 12 mph. Top sustained winds estimated at 30 mph. Pressure estimated at 1010 mb.
Forecasts take this low just north of due west into Central America this weekend. The areas affected will be Honduras, Belize and the southern Yucatan of Mexico. The greatest impact will be locally heavy rainfall unless the tropical cyclone develops significantly.
Tropicast: Visible Floater Satellite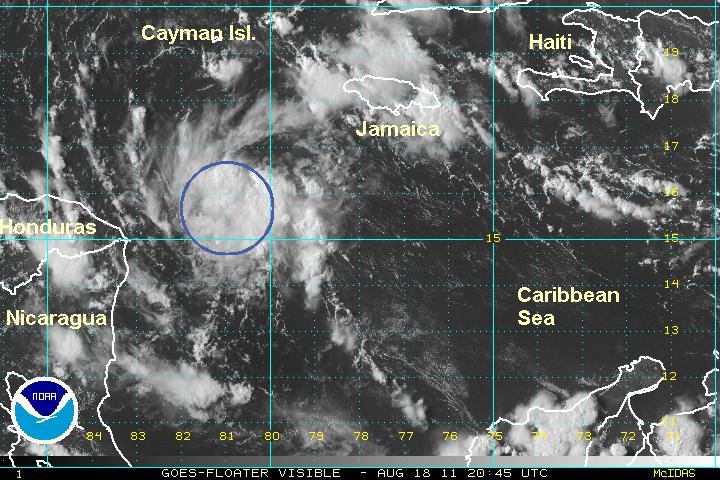 National Hurricane Center
Official NHC Advisory
none yet
Official NHC Track
none yet
Satellite
Visible Satellite Imagery
http://www.ssd.noaa.gov/goes/flt/t1/flash-vis.html
I.R. Satellite Imagery
http://www.ssd.noaa.gov/goes/flt/t1/flash-avn.html
_________________
Rich Johnson
Tropicalweather.net


Certified Broadcast Meteorologist - Hurricane Expert