Wednesday Evening Update
Tropical depression 6E officially classified
The tropical disturbance has been officially classified by the hurricane center. During the day, visible satellite imagery shows that the low pressure center is not as quite as well defined as earlier. The low level center is more diffuse with little deep convection near it. It appears that easterly shear is keeping the deep convection west of the center. If this persists the low pressure system may never reach tropical storm strength per the national hurricane center forecast.
As of 7:00 pm edt / 4:00 pm pdt the tropical depression was centered near 15.2° N / 107.4° W or about 330 miles southwest of Manzanillo, Mexico. Movement is to the west northwest at about 13 mph. Top sustatined winds are estimated at 30 mph (NHC 35 mph).
This tropical depression is not a threat to Mexico, so updates will not be as frequent.
Tropicast: Pacific Floater Visible Satellite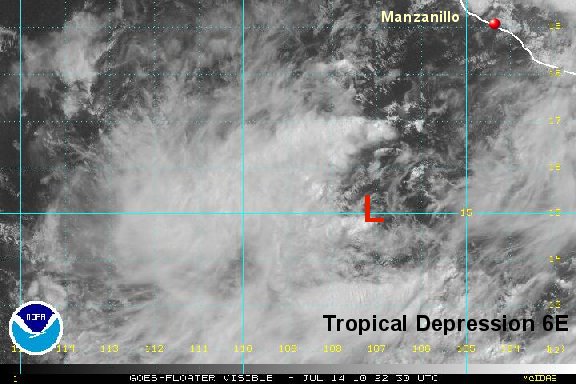 National Hurricane Center
Official NHC Advisory
http://www.nhc.noaa.gov/text/refresh/MIATCPEP1+shtml/142034.shtml?
Official NHC Track
http://www.nhc.noaa.gov/graphics_ep1.shtml?5-daynl?large#contents
Satellite
Visible Satellite Imagery
http://www.ssd.noaa.gov/goes/flt/t6/flash-vis.html
I.R. Satellite Imagery
http://www.ssd.noaa.gov/goes/flt/t6/flash-avn.html
_________________
Rich Johnson
Tropicalweather.net


Certified Broadcast Meteorologist - Hurricane Expert