Tuesday Evening Update
Remnants of Gaston south of Puerto Rico
The remnants of Gaston are looking rather impressive. It is extremely rare for a tropical cyclone to develop in the eastern or central Caribbean if it hasn't already organized east of the Lesser Antilles first. This rule is only for tropical cyclones moving east to west toward the Caribbean. Anyhow, enough about weather philosophy. Showers and storms are moving across Puerto Rico and will be heading into the Dominican Republic soon.
As of 6 pm edt / ast remnants of Gaston were centered near 17.5 N / 66.3 W or about 35 miles south southeast of Ponce, Puerto Rico. Top sustained winds are estimated at 30 mph . Movement is west at about 23 mph. Pressure estimated at 1010 mb.

Interests in the northern and western Caribbean should follow the progress of the remnants of Gaston.
The remnants of Gaston are forecast to move across the northern Caribbean into Wednesday and head in the direction of Honduras by later this week.
Tropicast: Visible Floater Satellite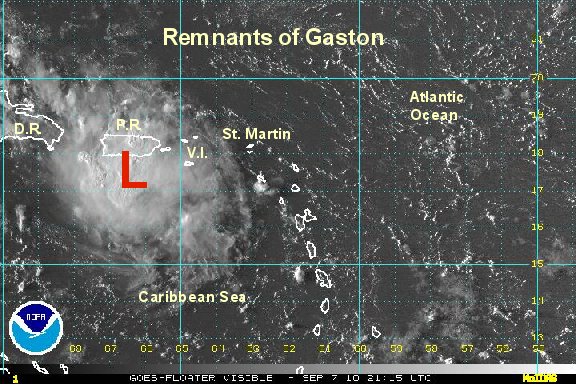 National Hurricane Center
Official NHC Advisory
none
Official NHC Track
none
Satellite
Visible Satellite Imagery
http://www.ssd.noaa.gov/goes/flt/t3/flash-vis.html
I.R. Satellite Imagery
http://www.ssd.noaa.gov/goes/flt/t3/flash-avn.html
_________________
Rich Johnson
Tropicalweather.net


Certified Broadcast Meteorologist - Hurricane Expert