Thursday Evening Update
Nora weakens, looks like a tropical depression
Upper air wind shear has stripped the deep convection away from the center of the circulation of Nora. The only deep convection is to the east and it's fading. We now think that Nora has dropped below tropical storm strength, with some wind gusts to 40 mph or a little stronger near the convection.
As of 7:00 pm edt / 4:00 pm pdt tropical storm Nora was centered near 17.4° N / 121.3 W or about 820 miles west southwest of Cabo San Lucas, Mexico. Top sustained winds are estimated at 35 mph (NHC 45 mph last advisory). It is moving west at about 8 mph.
This will be our last update on Nora as it will continue to weaken and not affect any land mass.
Tropicast: Pacific Floater Visible Satellite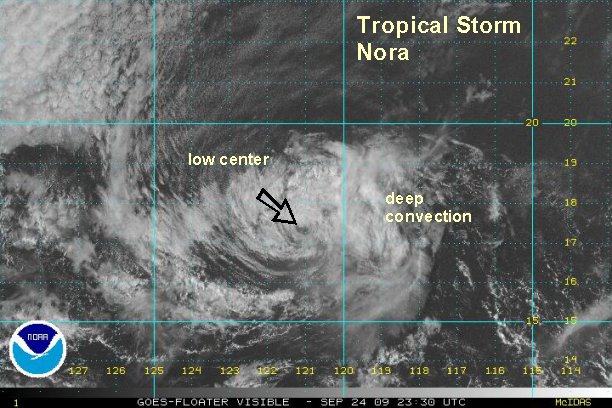 National Hurricane Center
Official NHC Advisory
http://www.nhc.noaa.gov/graphics_ep2.shtml?5-daynl?large#contents
Official NHC Track
http://www.nhc.noaa.gov/text/refresh/MIATCPEP2+shtml/230850.shtml?
Satellite
Visible Satellite Imagery
http://www.ssd.noaa.gov/goes/flt/t6/loop-vis.html
I.R. Satellite Imagery
http://www.ssd.noaa.gov/goes/flt/t6/loop-avn.html
_________________
Rich Johnson
Tropicalweather.net


Certified Broadcast Meteorologist - Hurricane Expert