Friday Morning Update
Hurricane Felicia weakening rapidly
Felicia has changed dramatically overnight. Cloud top have warmed, and sea surface temps have cooled. The eyewall now looks ragged.
As of 7:00 am edt / 4:00 am pdt Felicia was centered near 17.7° N / 134.9° W or about 1300 miles east south east of the Big Island of Hawaii.
We estimate that Hurricane Felicia is now 95 mph. The National Hurricane Center says that their estimate of 115 mph a few hours ago may be generous. A recent microwave satellite estimate was a little over 90 mph. We believe that 95 mph may be generous.
Hurricane Felicia is moving west northwest at about 12 mph.
It's possible Felicia could reach the Big Island as a weak tropical storm or tropical depression early next week. Sea surface temperatures are warmer just east of the Big Island which may help sustain Felicia after rapid weakening.
Tropicast: Pacific Floater I.R. Satellite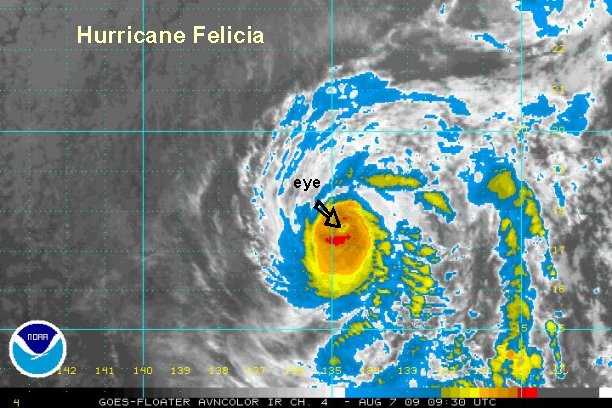 Official NHC Advisory
http://www.nhc.noaa.gov/text/refresh/MIATCPEP3+shtml/DDHHMM.shtml?
Official NHC Track
http://www.nhc.noaa.gov/graphics_ep3.shtml?5-daynl?large#contents
Visible Satellite Imagery
http://www.ssd.noaa.gov/goes/flt/t7/loop-vis.html
I.R. Satellite Imagery
http://www.ssd.noaa.gov/goes/flt/t7/loop-avn.html
_________________
Rich Johnson
Tropicalweather.net


Certified Broadcast Meteorologist - Hurricane Expert