Thursday Morning Update
Rain continues to pound northeast Florida
The disturbance is now centered 275 miles west southwest of Tampa moving west. There remains almost no convection around the center of circulation. Even though there is very little chance of development, the overall circulation continues to bring the effects of rain to Florida.
Tropicast: Florida Radar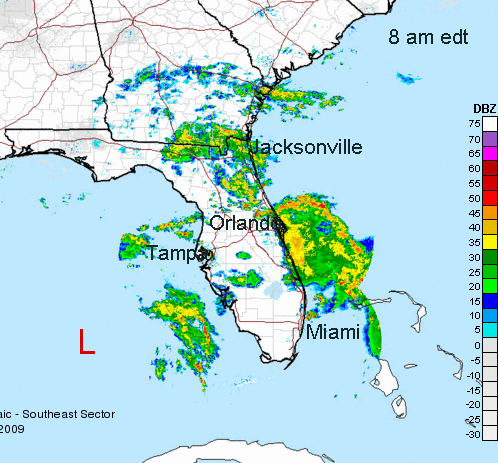 The latest Doppler radar estimates indicate 10-15" of rain has fallen northwest of Daytona Beach - north to Palm Coast - and east of Ocala. Rainfall rates are on the order of 1/2"/hr in localized cells. The heaviest rain continues in scattered storms east of Ft. Lauderdale to Grand Bahama. Rainfall rates of 1-1 1/2"/hr are in these storms.
The threat of additional flooding looms today with the large band of heavy rain near and just off of the Space Coast. This rain will likely move back into northeast Florida. Flood watches and warnings are in effect for the 1st and Space coast.

Make sure you are extra careful if you live in a flood prone area. An additional 5"+ of rain will likely occur in locations already severely effected by the recent rain.
Tropicast: Visibe Satellite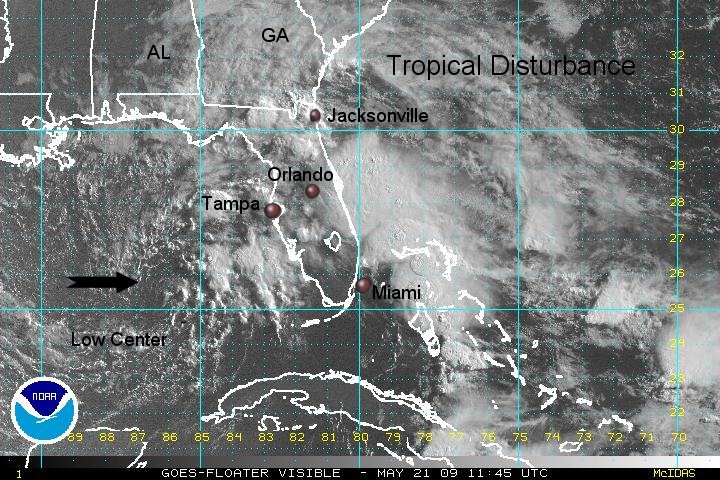 The first visible satellite images show no convection with the surface low centered in the eastern Gulf. With no convection around the center of circulation, development at best would be very slow to occur. More heavy storms are north of Andros into the northwest Bahamas and east of Florida. Rainfall rates of 2"/hr are possible in these storms.
Official NHC Advisory
None
Official NHC Track
None
Visible Satellite Imagery
http://www.ssd.noaa.gov/goes/flt/t1/loop-vis.html
I.R. Satellite Imagery
http://www.ssd.noaa.gov/goes/flt/t1/loop-avn.html
_________________
Rich Johnson
Tropicalweather.net


Certified Broadcast Meteorologist - Hurricane Expert