Wednesday Late Morning Update
Multiple centers
As the recon alluded to, Erika has multiple centers. This is unusual and indicative of a poorly organized system. The first center is clearly shown on radar over Guadeloupe. The other is near the deep convection and is just becoming apparent on visible satellite imagery. The forecast models tracks diverge in a few days most likely due to the lack of clear organization in the low levels.
One low level center is over Guadeloupe. Another low is centered near 17.2° N / 58.0° W or about 250 miles east of Antigua. Top sustained winds are estimated at 45 mph. Tropical storm Erika is moving west slowly at about 7 mph. Seas are at 16' near the deep convection.
At this time tropical forecast models develop Erika over the next couple of days, then weaken it before reaching the Turks and Caicos as upper air shear increases. The models split again Saturday and is noted with a range in the forecasts below.
If Erika stays fairly weak as it is now, this would favor a more westerly track over the northern Antilles into the Bahamas as a weak system.
Tropical forecast models still stay with the scenario of increased shear near the Turks and Caicos / Bahamas to weaken the system with most models.
This is what is forecast for now:
Thursday - near / just north of the Leewards
Friday - near / just north of Puerto Rico / eastern Dominican Republic
Saturday - Models split here: southern Bahamas to east of the Turks
Sunday - southern Bahamas to east of the southern Bahamas
Monday - northwestern Bahmas to east of the central Bahamas
Tuesday - south Florida to 200 east of Jacksonville

If you are traveling to the eastern Caribbean / northern Caribbean / Bahamas / Turks and Caicos into this weekend keep updated on the progress of this system.
Tropicast: Atlantic Visible Floater Satellite (8:45 am edt)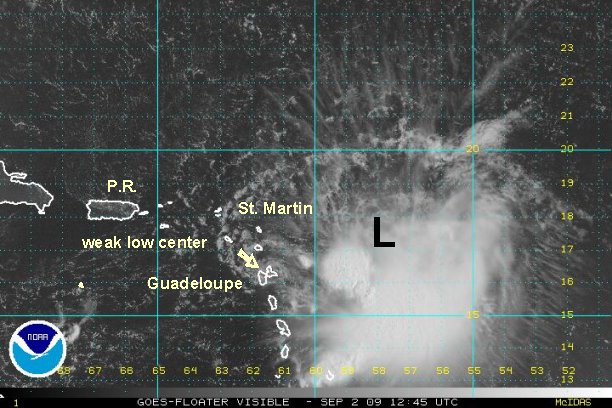 Tropicast: Leeward Radar(9:00 am edt)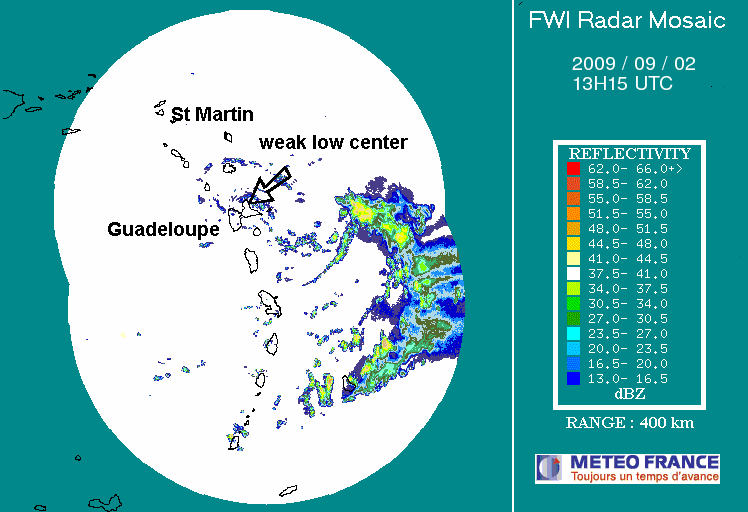 National Hurricane Center
Official NHC Advisory
http://www.nhc.noaa.gov/text/refresh/MIATCPAT1+shtml/012047.shtml?
Official NHC Track
http://www.nhc.noaa.gov/graphics_at1.shtml?5-daynl?large#contents
Satellite
Visible Satellite Imagery
http://www.ssd.noaa.gov/goes/flt/t2/loop-vis.html
I.R. Satellite Imagery
http://www.ssd.noaa.gov/goes/flt/t2/loop-avn.html
Lesser Antillies Radar
http://www.meteo.fr/temps/domtom/antilles/pack-public/animation/animMOSAIC2.html
_________________
Rich Johnson
Tropicalweather.net


Certified Broadcast Meteorologist - Hurricane Expert