Friday Evening Update
Matthew rapidly strengthened today
The Weather Situation
Matthew has undergone a rapid deepening phase over the past 24 hours. It is a category 4 hurricane. Interests in Jamaica, Haiti and eastern Cuba as well as the Bahamas should make preparations for hurricane conditions. IR satellite imagery shows a very impressive eye. Matthew is unusually far south and some effects are being felt on the northern coast of Venezuela.
Current Tropical Weather
As of 8 PM EDT Hurricane Matthew was centered at 13.5 N / 72.9 W or 440 miles SE of Kingston, Jamaica. It was moving WSW at 9 mph. Top sustained winds are estimated at 150 mph. Pressure was estimated at 945 mb.
Tropical Weather Forecast:
Matthew will turn to the north over the weekend toward eastern Jamaica by Monday. Models vary after this. The Euro stalls Matthew just east of the Florida east coast for a number of days. The GFS takes Matthew close the eastern seabord from Florida up to New England over the next seven days. In any case, persons living along any of the eastern seaboard should follow the progress of Matthew for next week.
Tropicast: Afternoon Visible Satellite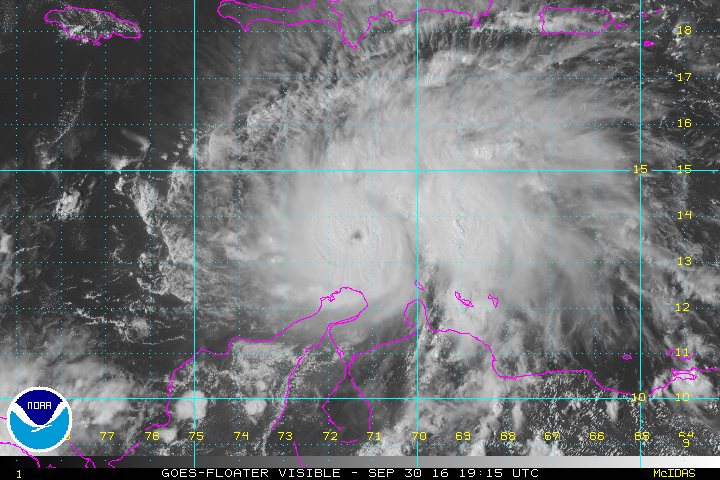 Tropicast: Current IR Satellite