Saturday Morning Update
TD2 will probably be upgraded today
The Weather Situation
IR satellite imagery shows increased deep convection on the west side of the circulation which would suggest that TD 2 is crossing the threshold of becoming a minimal tropical storm.
Current Tropical Weather
As of 8 AM EDT Tropical Depression 2 was centered at 30.0 N /78.0 W or 225 miles SSE of Charleston,SC. It was moving NW at about 14 mph. Top sustained winds are estimated at 35 mph (NHC). Pressure was estimated at 1009 mb.
Tropical Weather Forecast:
TD 2 will move toward the coast of South Carolina today and be close to the coast by Sunday morning. It should then gradually lose tropical characteristics even if it doesn't move inland. The latest models have shifted from taking it well inland in South Carolina and now drift it up the coast. It will be near the South Carolina coast into Sunday and North Carolina coast Memorial Day.
The greatest threat at this time would be for the increased threat of rip currents and building surf along the Southeast coast. Heavy rainfall is also likely as bands of heavy rain with gusty winds move into the coastal areas. Models at this time suggest TD 2 developing into a minimal tropical storm.
Tropicast: IR Satellite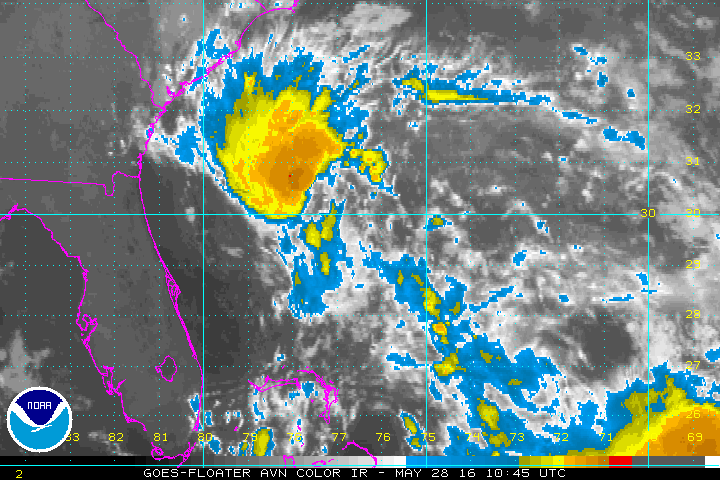 Tropicast: Charleston, SC Radar 8 am