Friday Morning Update
Arthur east of Virginia Beach
Arthur is now accelerating NNE up the eastern seaboard. Some rain bands will effect the U.S. east coast into early Saturday morning. The center of circulation will be close to Cape Cod tonight, but Arthur will be transforming into an extratropical cyclone. In fact satellite imagery shows the very beginning stages of that now as the eye is not as well represented on radar.
I have a slightly lower estimate of sustained wind as IMO that winds aren't quite as strong. In fact, I don't believe that this was ever a 100 mph - category 2 hurricane. If this were true winds should have been reported in the range of 115-120 mph. The strongest land station wind reported was 87 mph at Ft. Macon, NC. It's possible that stronger winds were seen over Cape Hatteras as the wind instrument stopped reporting after 71 mph.
Rainfall estimates were in the range of 2-4 inches in many areas of eastern North Carolina.
As of 8 am edt Arthur was centered at 36.7 N / 74.4 W or 110 miles ENE of Norfolk, VA. It was moving NE at about 21 mph. Top sustained winds estimated at 90 mph (100 mph NHC). Pressure was estimated at 976 MB.
Forecast:
Forecasts take Arthur just east of Cape Cod by midnight tonight then to southern Nova Scotia, Canada by Saturday morning.
Tropicast: Atlantic IR floater satellite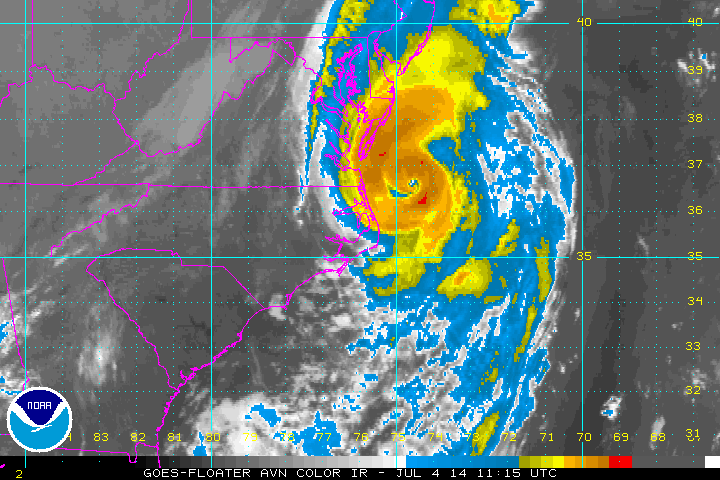 Tropicast: Mid-Atlantic Radar