Tuesday Morning Update
Raymond stalled offshore
Hurricane Raymond's winds peaked at 125 mph yesterday afternoon. The hurricane center has dropped winds to 115 mph which is still a minimal category 3 hurricane. The IR imagery below shows the drastic change in the eye structure. Because of this, my estimate is considerably lower than the official estimate of sustained winds. A recon is scheduled later today and I suspect that NHC will drop their winds lower with the official confirmation.
Rainfall of over 10-15 inches is possible, especially in the mountains just inland. High swell will continue.
As of 2 am pdt (5 am edt) Raymond was centered near 16.5 N / 102.0 W or about 85 miles SSW of Zihuatanejo, Mexico. Movement is stationary. Top sustained winds are estimated at 100 mph (NHC 115 mph / 2 am pdt advisory). Pressure is estimated at 959 mb.
Forecast:
Raymond should continue to slowly weaken and drift farther to the west out to sea during the next 24-48 hours.
Note: conditions on the coast could deteriorate if Raymond jogs only slightly farther to the east.
Tropicast: Pacific Visible Satellite Monday Afternoon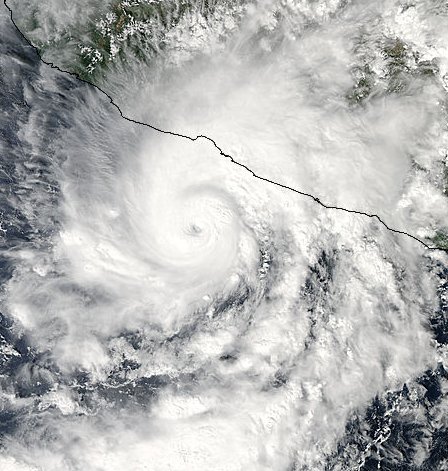 Tropicast: Pacific IR Satellite Monday Afternoon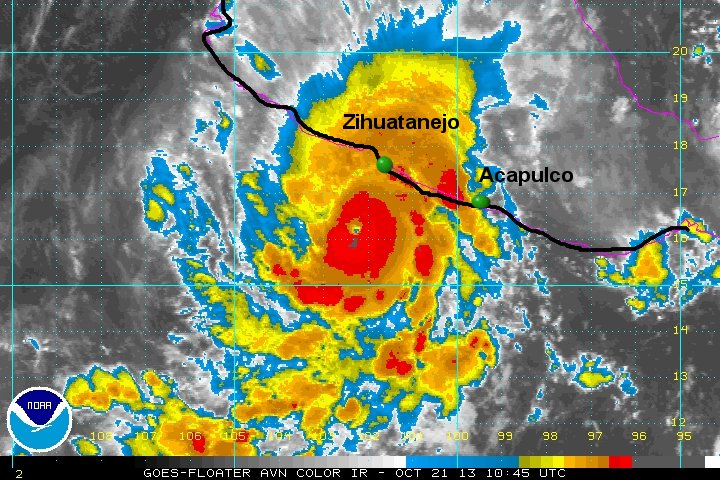 Tropicast: Pacific IR Satellite Tuesday Morning