Friday Night Update
Heavy rain continues, winds slightly weaker
A band of heavy rain is situated from just south of Virginia Beach, across eastern North Carolina to just south of Myrtle Beach. Doppler rainfall totals of 3-5" have occured near the North Carolina coast in areas where heavier rainbands have been located.
Recon aircraft reports winds still only minimal hurricane strength of about 80 mph. I have dropped my estimate to 90 mph as NHC has kept their estimate at 100 mph. IMO they are doing this not to be "caught with their pants down" in case there is some strengthening before landfall. Both of our estimates are still probably high. In reality 80 mph with gusts to 95 or 100 is probably more representative.
NOAA sea analysis show highest seas around 43 feet near the low center offshore of South Carolina.
The hurricane center is estimating a storm surge of 4-8 feet on the coast of NC. Keep in mind that this surge will also be up the rivers and sounds of eastern North Carolina.
As of 10 pm edt / ast Irene was centered near 32.4 N / 76.9 W or 210 miles ssw of Cape Hatteras, North Carolina. It is moving nne at 14 mph. Top sustained winds are estimated at 90 mph (NHC 100 mph last advisory). Pressure is estimated at 950 mb.
Forecast:
Forecasts take Irene between Beaufort and Cape Hatteras North Carolina around tomorrow morning to midday and near Virginia Beach late Saturday afternoon to early evening. Sunday morning Irene will be near the Maryland / Deleware coast. It will move up the New Jersey coast during the day into Long Island / southern New England Sunday afternoon.....continuing inland into New England Sunday night.
Interests in Nova Scotia, Canada, and U.S. coastal states, South Carolina to New England should follow this tropical cyclone closely.
This will not only be a coastal event! The big cities of the Northeast, Washington, D.C., Baltimore, Philadelphia, New York city, and Boston will likely see very heavy rainfall and strong winds. Serious flooding is also likely. This is an unusual event, so don't take this situation lightly!
Tropicast: IR Satellite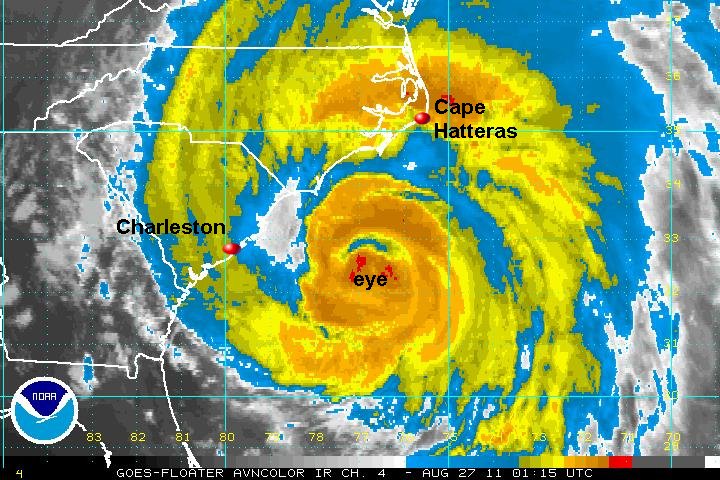 Tropicast: North Carolina Radar